Lissajous 3D for Mac
From Bounce Metronome
I will call this the first release of the Mac version of Lissajous 3D, as I think I've done as much as I can, unless anyone reports any other bugs with it. Currently everything is working fine except the image save and also video export - you can't save images directly to disk from the program, can only do screen shots. For other minor issues, see #Known issues which I haven't been able to fix yet.
Download here:
Lissajous 3D Mac Dec 20th 2014
Version for Leopard (OSX 10.5) is here: Lissajous 3D Mac - FOR LEOPARD ONLY - December 20th 2014.
NOTE - the Leopard version of Lissajous 3D is untested as I can't run it in my OSX 10.5 virtual machine. This seems to be an issue with OpenGL support. However this is for the very first release of OSX 10.5. It is easily possible that there is enough 3D support for the program to run on a hardware Leopard machine or a later version of OSX 10.5. If you try it out on a hardware Leopard machine, do let me know if it starts - either way. Thanks!
For the Windows version: Download Lissajous 3D for Windows
For what's changed, see #What's new
If you want to make images on the Mac use screenshots. For video export record the screen with quicktime player.
It's export in obj format as 3D models should work fine on the Mac, as for Windows, same files.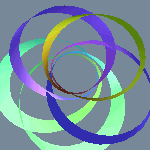 Kickstarter - crowd funded, thanks!
This crowdfunded project was made possible because of support of the many backers of the Kickstarter: Bounce Metronome, Tune Smithy, Lissajous 3D, ... on the Mac!, which was successfully funded on June 7, 2014.
Thanks!
Installation
Just download it - it's a package all ready to use.
It's in a zip to reduce the size of download from over 200 MB to 80 MB approx, but my Mac anyway seems to unzip it automatically on download. If necessary unzip first and run.
You will probably want to copy it over to your Applications folder also for easy access.
You may need to give it permission to run - easiest way is to use CONTROL + CLICK on the package, and choose Open - then in the dialog that pops up answer "Open Anyway".
You can also give it permission to run from Apple Icon >> System Preferences >> Security & Privacy - Then click on "Open Anyway" and answer Okay to the message.
If you haven't got an unlock key yet - then just start the test drive.
If you pledged to kickstarter you should have got your unlock key by now. If not please contact me!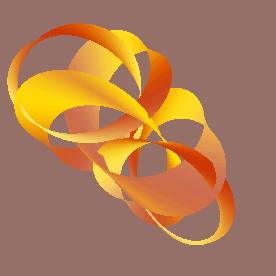 Why it is unsigned
I have a Mac developer's license. But the Wineskin package is designed for version 1 and signed with a version 1 certificate.
Apple, earlier this year, changed the system, and on Mavericks I can only sign it with a version 2 certificate which doesn't work with a Wineskin. So I can't sign it at present. See How do I Codesign my Wineskin?.
If anyone has any thoughts about this, anything I can do to sign it, do say!
Use Menu within Program rather than Top Menu for most things
This is because it's a Windows program originally. The windows each have menus within them - with many options. I have no way to add those options into the top menu of your Mac.
You can do a few things with the top menu. You can zoom the window, or minimize it, standard things like that. You can do a quit, also a force quit if it freezes. You get links to visit the program website, and the Wineskin website. But that's about it
If you close the main window, it quits the program
That's because it originates in Windows which doesn't have a top menu. On Windows, one of the windows is usually the "main window" and you quit a program by closing its main window.
So, the same happens on the Mac. You can close any of the other windows and nothing happens. But if you close the main window, it quits the program.
You can also quit from the top menu - has same effect as closing the main window.
"Can't be opened" Error message
This is quite rare, but sometimes you might get an error message
The application ... can't be opened -10810
If that happens there are three things you can do.
Simplest method: Reboot your Mac and the error should go away
Or, make a copy of the application. The copy should start up okay.
Or, if you don't want to reboot or copy the application, right click on the application and click "Show Package Contents". Then double click on the wineskin inside the wrapper, go to Advanced and click on Test Run.
I don't know why this happens, and an internet search hasn't turned up any answers except that many people have encountered this error with many different programs inside wineskins. So it is nothing specific to my programs.
Known issues which I haven't been able to fix yet
The main issue so far is the image save. You can do screenshots as normal on a Mac but can't save images to disk from within the program itself at present.
The other issues I've found so far are minor. You may find that it is a bit slow to start up. Can't use end caps (rarely used feature). And buttons may sometimes show gray rather than textured until you hover mouse over them. Some improvement there with 25th Sept upload but still doing it to some extent.
It is also a bit slow to start up.
Also not yet programmed to respond to chords played in FTS Lambdoma or Bounce Metronome.
Start up time
It now takes around 10 seconds for the program to start up on the 11" Mac Air. As that's a one year old model - first released last summer - older computers will probably take considerably longer, and the newest Macs would probably start up a bit faster.
Of that, about 3.5 seconds is needed for starting up the WineSkin.
You can test for yourself. When you see the splash screen saying "Bounce Metronome Loading..." then that's the moment that the WineSkin transfers control to my program to start up.
There doesn't seem to be much I can do about this.
There's a fair amount it has to do, the downside of making it a self contained program that doesn't require you to install anything on your computer.
For a Wineskin forum discussion, see speedup application startup
I may be able to do something though about reducing the remaining 7 seconds of start up time.
Image export
Lissajous 3D can't currently export images to files. So the only way you can make images with the program is to take screen shots.
That's because for some reason it can only draw in 3D directly to the graphics card rather than to a bitmapm (which you need to do to save to disk).
Not done any debugging yet for the issue with the images save. So just can't say at present, if it is a big problem, or some minor thing easy to fix. Most people don't need this - not needed to run the program and enjoy the animations - but if you use LIssajous 3D to make images obviously you need it.
minor issue, can't do end caps to tubes (rarely used feature)
This is for the option to show the Lissajous as a tube - and show only part of it so it isn't joined up. It's a rarely used feature. This doesn't work in Wine on the Mac for some reason. Window goes blank and may stop responding if you try.
I've added a check box "disable end caps" in the Ribbon window for the Mac to deal with this.
Buttons may show up gray when window is first displayed. They turn to textured when you hover the mouse over them. I am not sure quite why this happens. As a work around it redraws all the buttons again after 0.2 seconds, 1 second and 3 seconds - but sometimes this still doesn't work and they remain gray.
It's a bug I had also in Bounce Metronome. Purely visual though. I've tried various ideas but still haven't been able to fix it totally.
Synchronize with chords played in FTS Lambdoma or Bounce
To get it to synchronize with chords played in FTS Lambdoma, Tune Smithy, or Bounce Metronome, then you have to switch on check boxes in both programs.
That's because I wanted to be sure that the programs only save data in your Documents program if you switch on the feature yourself to indicate that that's what you want.
The file used for synchronization is called "chord_data_for_lj3d.dat" - I think reasonably unlikely that anyone would have a file in their Documents folder already called this.
This option will of course overwrite any existing file of that name if you have any such. It's a bit of a kludge but I know of no other way to do this.
So - in Lissajous 3D go to
Opts >> Tune Smithy Musical Chords (Ctrl + F7)
Then switch on "I want Lissajous 3D to respond to chords played in Tune Smithy"
Also switch on "Look for data file in "My Documents" folder"
(sorry I should correct that to "Documents" of course on the Mac).
Then in Tune Smithy, go to the Lissajous Options window (Ctrl + 138)
Then switch on "Use data file in "My Documents" folder to synchronize with Lissajous 3D"
Tune Smithy automatically deletes the data file when you close the program, so it is only there while you use Tune Smithy. Also it does no harm at all to delete it yourself.
Techy details
It's not able to synchronize with chords played in FTS Lambdoma or Bounce via shared memory as it does on Windows, because they are in separate wineskins.
However, it can do that by saving a file to the Mac documents folder, as that's a public folder accessible from within the wineskins - so a place where both programs can look.
So - every time you play a chords in Tune Smithy or Bounce Metronome, the program saves information about that chord to the documents folder on your mac - in a file called, say, "lissajous chord.dat".
So then if you set Lissajous 3D to respond to chords played in Tune Smithy or Bounce, it monitors that file regularly, and then changes chord if the file changes.
It's a bit kludgy but it's the only way to do it I can think of and would work.
What's new
20th December 2014
Confusing message referring to metronome and tempo dial when you unselect option to show unlock button in main window
- fixed
Lissajous 3D Mac Dec 20th 2014
Lissajous 3D Mac - FOR LEOPARD ONLY - December 20th 2014.
10th December 2014
Lissajous 3D Mac Dec 10th 2014
6th December 2014
This upload just removes the "Eject Disk" from the top menu and adds a link to this page instead.
Lissajous 3D Mac - FOR LEOPARD ONLY - December 6th 2014
30th November
Quit may be flaky- fixed.
If you set skin texture to "reflect at seams" then parts of the window may be just gray - fixed
Might not show tool tips on the mac - this is due to the refresh rate set too high - fixed
Lissajous 3D - November 30th 2014
Lissajous 3D Mac Beta for LEOPARD - November 30th 2014.
17th October
Can now respond to FTS via data file in your Documents folder
Lissajous 3D Mac Beta - Oct 17th 2014
25th Sept
Overview button in help window doesn't work because it shows an html file inside the skin - maybe Safari can't see it?
Anyway - for now I've made it so it takes you to online copy of the help
If you click on a check box and it shows you a message box - you may not see the message until you click on the animation if animation is in progress - fixed by pausing the animation for message boxes - similar idea to the pause for menus and for open and save dialogs.
Also now shows whether it is paused for menus, open dialogs etc in Pattern >> MOVE, SPIN, SWAY & PLAYBACK SPEED (F3). To see this in action try showing that window then click on one of the menus or go to File >> Open and you'll see that when the animation pauses you get a message appear inside that window, showing that it is paused and why.
Lissajous 3D Mac Beta - Sept 25th 2014
Other Mac Betas
See also: All the Mac Betas in one list