Tutorials/Midi to Wav
From Bounce Metronome
How to convert Midi to Wav in Bounce Metronome
You need to get the Timidity plugin. You can get it here:
Bounce Metronome Extra Downloads - Midi to Wav
Then in Bounce Metronome go to Pitch of 1/1 of Scale (Ctrl + 10) and first you need to record to a midi file.
Then in the same window chose "The sound itself - Waveform Audio (*.wav)" from the TYPE drop list. A button will appear "Convert Midi to Wav" and you can use that to create the .wav file.
How to convert the result to an mp3
Choose "Compressed audio - MP3" from the TYPE drop list in the same window, Pitch of 1/1 of Scale (Ctrl + 10). You will see a "Convert Midi to Wav" button as before. Then once the .WAV file is created, you see a "Convert Now" button which converts the .wav to an mp3.
Other ways to convert midi to wav
You can also do the conversion with iTunes and various other methods such as SynthFont or your DAW may be able to do it.
This is the easiest way to do it, if you don't have a DAW to handle it, and it is free.
You can get ITunes here if you don't have it yet:
Note - when iTunes starts up you get a message: "iTunes has detected that it is not the default player for audio files. Would you like to go to the Default Programs control panel to fix this?" with a check box "Do not show this message again".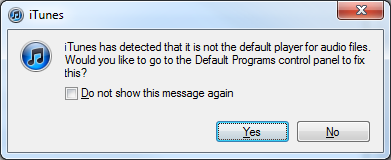 If you want to keep your current player for media files, you need to answer No to that message every time it starts up.
Also, don't use the check box.
If you select "Do not show this message again", then it treats your answer as a "Yes" even if you press the "No" button. I got caught out by this. It does it without any feedback to show what it has just done, does it silently. You only realise what happened next time you play a media file and find it opens in iTunes. That's rather unintuitive, when you press "No" you expect the program to understand that you don't want it as your media player - but it's what it does, the check box overrides your choice and makes it into a Yes.
As you see in the video, this is what you do:
Switch on the Wav Encoder. To do that in ITunes go to the Edit menu and click on "Preferences". Select the "General tab". Go down and click on "Import Settings". Then on "Import Using", choose "WAV Encoder". Then save your your settings by clicking "OK".
Now copy the midi file you want to convert into iTunes. You can drag and drop them into iTunes. Or if they are all in one folder is to go to File in iTunes and select Add Folder to Library. For individual files you can also use File | Add to Library.
To do the conversion in iTunes, right click on the file you want to convert to WAV and select Create WAV version. The WAV file is created using the instruments for the QuickTime midi engine which is reasonable quality.
The converted file will appear in the Music section of iTunes and you can drag and drop to copy it back to your original folder or wherever you want to put it.
Apart from the minor annoyance that you have to keep answering No to a message every time iTunes starts up, this works well as a solution and is easy to use.
Other ways to do it
The result can be very different depending on the software and sound set, and choice of instruments you use for the conversion. Midi files just record the note on and note off, and the "midi patch number", they don't have any actual audio in them.
So you might well want to use other methods depending on what you want to achieve by way of sound.
For more about this see this article in the Tune Smithy wiki: How to convert Midi to Wav