Help for Tune Smithy

Window 214
From Tune Smithy
Task Change Options
Screen Shot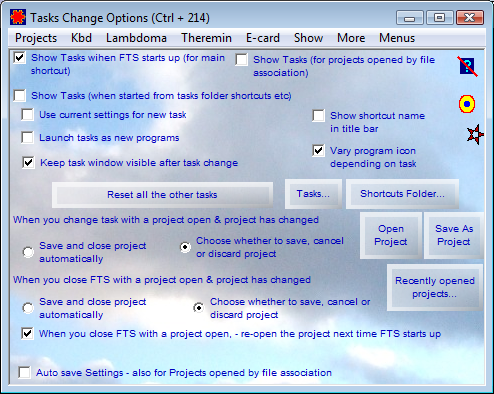 Task Change Options
Task opts, task change opts && what happens to projects during task changes...
How to get here
Main window menu: Tasks | Tasks Options or Ctrl + 214
Show Tasks (for projects opened by file association)
Show the Tasks window whenever you click on a tsProj file (normally unchecked)
Use current settings for new task
Lets you change the main window task for a shortcut...
If unsure LEAVE THIS OPTION SWITCHED OFF.
Normally, with this option switched off, your settings are saved separately for each task. So when you return to a task you find everything set up just as it was last time you used it, and each shortcut starts up the expected task.
When this option is switched on then you can use the task window to change which task is used for a shortcut. E.g. if you highlight the Scale composer, switch this option on, then change to the Chord player task, the Scale composer shortcut in the Tasks window will now launch the Chord Player main window.
Only techy users or users very familiar with FTS should use this option, as it can be confusing to use the settings for one task with another task.
If you want to use your settings for one task with another it is normally better to save a suitable file, e.g. as a scale, fractal tune, chord progression etc, and then open it in another task. You can also save the settings for any Tune Smithy window via the Organise Windows window, F2, and so share the settings for any FTS window with any of the tasks.
Details
This option is sometimes useful. E.g. it could be useful if you want to use e.g. a polyrhythm metronome or a chord progression for the fractal tunes, or if you frequently switch between similar tasks - e.g. to use the current Fractal Player tune for the Fractal Composer and vice versa.
To see how it works, select the option to show the shortcut name in the main window title bar (from Template:W214. So for instance it might show that you are still using the Scale Composer task, but the main window shows the Chord player main window, and the icon for the Scale Composer will change to the Chord Player icon.
The file used to save the settings is e.g. "Fractal Player.ini" and "start_up_etc-Fractal Player.ini" both saved in the Tasks Ini subfolder of your tune smithy folder, same pattern used for the other tasks, see help for the check box "Show shortcut name in title bar" for details.
ALTERNATIVES IN MORE DETAIL:
You can save the settings for any Tune Smithy window using the Organise Windows window (shortcut F2 or click the O icon for any Tune Smithy window). Then you can open the settings for the window for one of the other tasks.
Or you can use File | Save As to save the settings as a scale, fractal tune, chord progression, or one of the other formats (whichever is most appropriate), as a way to share settings between tasks.
You can find more types of file to save and open in the other tasks, if you go to File | Recently visited Files & File Types (Ctrl + 183) and unselect "Short list of types".
Launch tasks as new programs
Switch on to start each task as a new program, off to change task...
When this is switched on, the task starts up as a new program.
When switched off, the task changes here.
Tip: You can use Shift + click on the task to use the other option. E.g. if set to change task, use Shift + click on the task to launch as a new program.
Show shortcut name in title bar
Adds shortcut name to title bar followed by ===...
E.g. the Fractal Player shortcut will show as
Fractal Player == ..
Preset is unselected. Normally it is clear from the main window layout and title which task you are using. You can also find the shortcut name for the current task by showing Template:W213.
It keeps the title shorter to leave the shortcut name out. This leaves more space for information of interest such as the chord progression name, scale description or whatever it is (depending on the task).
The shortcut name tells you which files are used to save the settings.
Add .ini to the name, e.g. "Fractal Player.ini" for the file which most of the settings are saved in,
Some other settings such as the task and the window sizes and positions are saved in another file with the same name prefixed with start_up_etc-... e.g. "start_up_etc-Fractal Player.ini".
Both files are saved in the Tasks Ini subfolder of your tune smithy folder.
Reset all the other tasks
Resets all the tasks apart from the current one...
To reset the current task use File | Reset Nearly Everything in the main window.
Shortcuts Folder...
Tune smithy tasks (folder) - shortcuts you can put anywhere on your computer...
The shortcuts in this folder can be copied to wherever you like on your computer, and used to start up that particular task.
Also you can make new shortcuts by following the instructions in the readme file.
ALTERNATIVE APPROACH: You can make new shortcuts of your own to start up FTS with particular windows showing, and settings etc USING Desktop Shortcut (Ctrl + 148)).
---
There are many ways to use Tune Smithy depending on your interests. Choose the task that most closely applies to your special interest in this folder.
Each icon starts up a copy of Tune Smithy with the settings and the main window layout appropriate for the task.
Auto save Settings - also for Projects opened by file association
Lets you continue where you left off at the start of next session...
Saves all your settings when you close Tune smithy so that you can start up the next session just as it was when you left off last time.
You can run multiple copies of the same task.
If you have several copies of Tune Smithy open at once, all for the same task or all for the desktop shortcut - then close them all, the one you close last is the one that saves the settings last -so deterrmines how Tune Smithy starts up again for the next session
Open Project
What this does is configured from the Project Options window
Save As Project
What this saves is configured from the Project Options window.
Recently opened projects...
Use this to access other projects you saved or opened recently
Help = F1
Click for help for this window. Or F1. Other opts: Shift , Alt, Ctrl + click...
F1 or click shows the help for the current window in your web browser.
Some windows may have no help yet in which case the help icon is shown crossed out with a red line.
Shift + F1 or Shift + Click brings up the tool tips extra help window (this window) to show any extra help for a tool tip.
You can tell if a tool tip has extra help if it ends ... like this one.
Ctrl + F1 or Ctrl + click takes you to the list of keyboard shortcuts for Tune Smithy.
Alt + F1 or Alt + click (alternatively Caps lock physically held down + F1 or Click) takes you to the on-line page at the robertinventor.com web site about the current main window task - which gives a short introduction to it for newbies to the program. If there is no on-line page specific to a task, takes you to the main tune smithy page on the web site.
Since the help for Tune Smithy is currently a bit out of date and needs to be redone completely for the new 3.0 release, then you may find the on-line page for some of the newer tasks particularly useful.
Reset, or Save settings for this window. RIGHT CLICK for all windows menu...
Shows the Organise windows window - which you can use to reset all the parameters for the current window.
You can also use it to save the settings for just this window, or open previously saved parameters for just this window.
Also has a drop list of all the windows and their shortcuts, and related options - some to do with the menu listing, and some to do with window resizing and minimising.
Other Dialog Star
Tip of the day - For All category - right click for neighbouring windows...
Left click for a tip of the day in this category.
Right click to see a menu of neighbouring windows.
The neighbours are the ones you most often move to after this one or within a minute of this one, arranged by popularity.
So as you continue to use FTS, it will learn your habits, and the neighbouring windows listed here, should be the ones you most often visit after this one.
Keep Settings for Task Change (Ctrl + 215)
N.B. This list of neighbours may change when these pages are updated.