Help for Tune Smithy

Window 70
From Tune Smithy
Times for temp recording & spectrum analysis
Screen Shot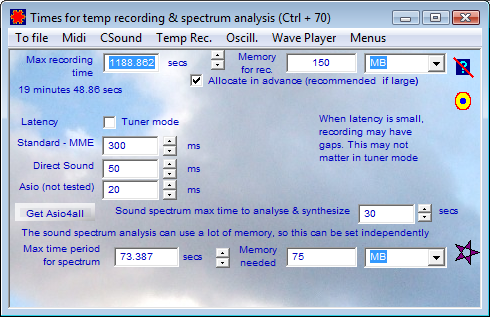 Times for temp recording spectrum analysis
Set the maximum time for the recording to volatile temporary memory...
This window also shows how much memory is needed for a given length of recording. This depends on the audio format as well - e.g. stereo or mono, how many bits (e.g. 16 bit), and the sample rate all affect how long a recording can fit into a particular amount of memory.
Time interval to analyse for tuner mode - SPIN
Increase or decrease time for total recording one second at a time
Memory needed
Time for total recording in seconds
Help = F1
Click for help for this window. Or F1. Other opts: Shift , Alt, Ctrl + click...
F1 or click shows the help for the current window in your web browser.
Some windows may have no help yet in which case the help icon is shown crossed out with a red line.
Shift + F1 or Shift + Click brings up the tool tips extra help window (this window) to show any extra help for a tool tip.
You can tell if a tool tip has extra help if it ends ... like this one.
Ctrl + F1 or Ctrl + click takes you to the list of keyboard shortcuts for Tune Smithy.
Alt + F1 or Alt + click (alternatively Caps lock physically held down + F1 or Click) takes you to the on-line page at the robertinventor.com web site about the current main window task - which gives a short introduction to it for newbies to the program. If there is no on-line page specific to a task, takes you to the main tune smithy page on the web site.
Since the help for Tune Smithy is currently a bit out of date and needs to be redone completely for the new 3.0 release, then you may find the on-line page for some of the newer tasks particularly useful.
Reset, or Save settings for this window. RIGHT CLICK for all windows menu...
Shows the Organise windows window - which you can use to reset all the parameters for the current window.
You can also use it to save the settings for just this window, or open previously saved parameters for just this window.
Also has a drop list of all the windows and their shortcuts, and related options - some to do with the menu listing, and some to do with window resizing and minimising.
N.B. This list of neighbours may change when these pages are updated.