| | | |
| --- | --- | --- |
| Prev | Graphical interface for the Aspell Spell Checker | |
Aspell is the standard spell checker for Unix-like (GNU) systems, and has been ported to Windows - you can get the port here:
It's particular speciality is its capability for correctly guessing misspelt words, which it does phonetically, by working out what they sound like.
It is a command line tool, which means you need to open up a Msdos prompt to use it in Windows.
However with TFE, you can use it as a normal windows program with a Graphical User Interface. Just install Aspell, and TFE will find it automatically and you can use it as the spell checker for TFE.
It has limitations - like most spell checkers at present, then it can't tell if you use a word that though misspelt, counts as the correct spelling of some other word, e.g. Wen (Old English rune for w) for When.
Here is a screen shot of it in use, in TFE, checking the Wikipedia list of common misspellings: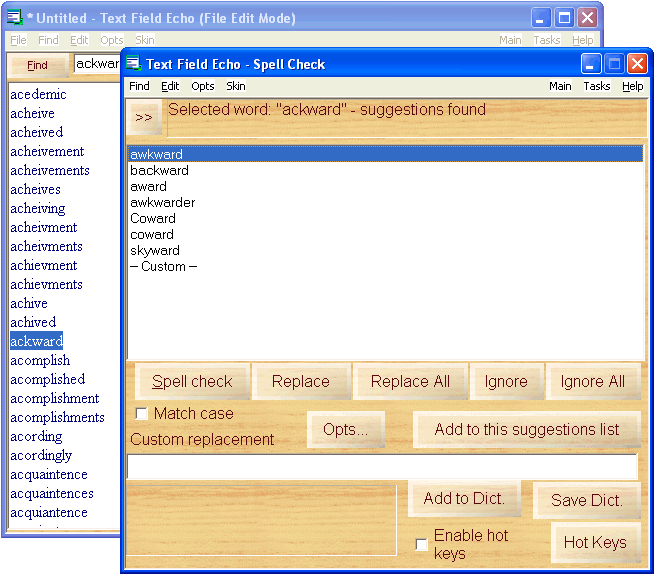 To find this feature in Text Echo, go to Opts | Spelling
Freeware / Shareware status: This feature is basically free. You can use it for free to open files, spell check them and re save them - or to spell check the contents of the clipboard. You may however want to use it with one of the shareware features such as to spell check text that you enter into a web form.
To read more about Text Echo, go on to:
Editable Clipboard Viewer & Other Features
To get the program, download and install Text Echo