Here is the program in use as a text echo
You can set the program to start with windows, and to run minimised to the system tray. Then to show it at any time just click on the system tray. You can also set it so that it pops up if you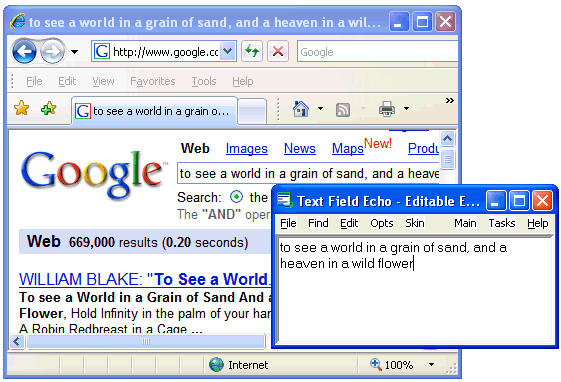 hover the mouse over, say, the bottom right corner of the screen.
So, it is available at any time, and doesn't get in the way. Now and again you may encounter the situation where you want to enter a lot of text into a small text field on a web page. You can just bring up Text Echo to do it.
You can edit the echo directly. The two fields remain synchronised so any change made in TFE gets applied to the original and vice versa.
It will work with many other programs and text fields - including for instance, toolbar "add on"s. Many text fields in Windows can be edited directly in this way.
At the moment this feature doesn't work with the FireFox browser, or Opera.
Text Echo can also be used as a spell checker. So you can also use it to spell check your entry in the form viz: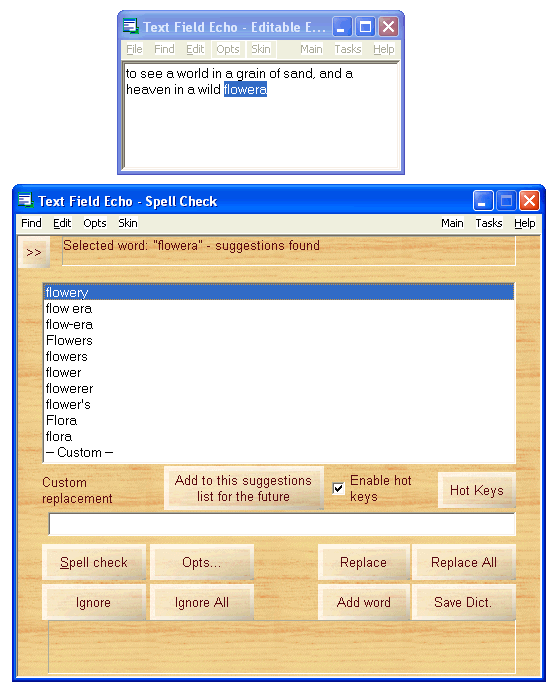 Features.
Echoes the text in another program or a web page. What's more - the echo is editable. If the text field is suitable for input then the echo is synchronised with it, so that you can edit the echo instead of the original text - useful if the field for text entry is small.
Usually it tracks whatever field you have the keyboard focus set to - when you click on a field it gets echoed instantly.
However you can also switch off auto tracking and instead choose which fields to synchronise, by clicking on them. You can synchronise as many fields as you like in any number of programs or web pages (well, up to a limit of 1024 fields :-)).
Then - if you edit any of the synchronised fields, then all the others get updated to show the same text.
You can also choose a colour and font for the echo, e.g. a larger text to be easily readable, or choose a font you like to work with.
Freeware / Shareware status: This feature is free if you just want to see the echo. If you want to edit the text in the other program directly by editing its echo in Text Echo, then that's a shareware feature.
To read more about Text Echo, go on to:
Search and replace folders and sub folders
To get the program, download and install Text Echo