The search and replace can be used to search all the files of a particular type in a folder, optionally including sub-folders to any level of nesting you like.
Here it is in action, searching my local copy of this web site for the program names, as an aid for proof reading - if you copy e.g. the download instructions for one program and use it as a starting point to help design the download page for another for instance, it is easy to leave the old program name in place (especially in tool tips and other hidden text), so it was to check for that sort of thing.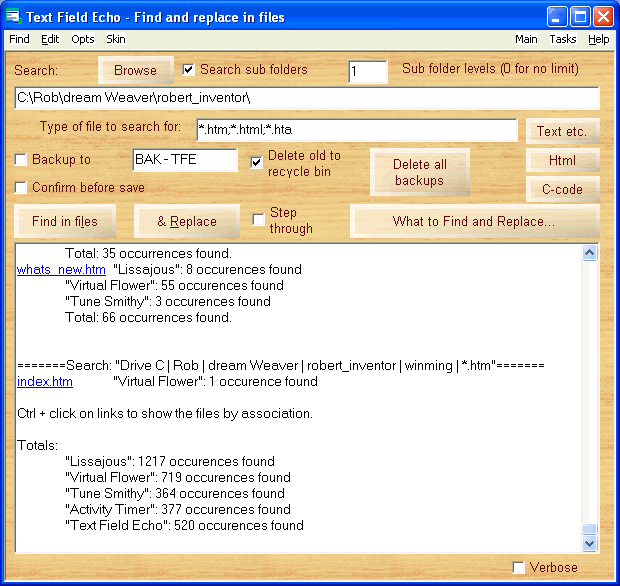 Notice that I've set the Sub folder levels to 1. This feature makes it possible to skip all the html files in the automatically generated galleries of images for the programs two or more nesting levels down, as they didn't need to be checked particularly (already done). This may be a useful feature in some situations.
To find this feature in Text Echo, go to Find | Find & Replace all files in a folder
This feature can be used with the other options such as to do a wild word search or replace, or to search or replace any number of terms at once. Here I used it with the option to search for several terms at once to search for all the program names.
Freeware / Shareware status: This feature is shareware However, if you just have one big one-off job to do, you will easily manage it within the one month test drive. It is acceptable to use the test drive in this way - it lets you run the program fully featured, and it isn't required that you just use it for evaluation during the test drive.
To read more about Text Echo, go on to:
To get the program, download and install Text Echo