Chord Synthesis

One of the many features that come as part of Fractal Tune Smithy
This lets you hear perfectly tuned chords - e.g. to explore harmonic series based chords. Most wavetable synths and soundcards don't tune chords with enough pitch accuracy to let you hear e.g. the beat patterns, or to hear quite how mellow the harmonic series chords can be. These ones are created directly by Tune Smithy generating the waveforms as accurately as it can (using 14 decimal places of precision)..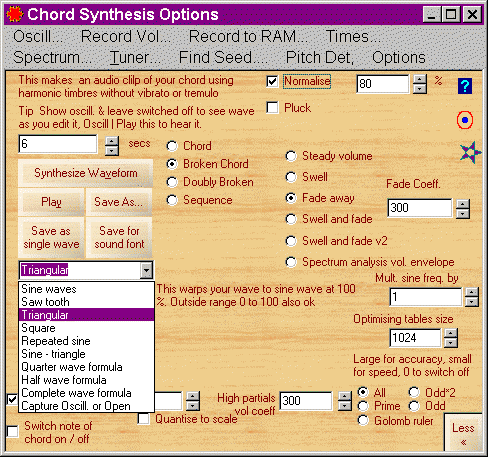 Fractal Tune Smithy is a Windows Program
<THIS PAGE IS WORK IN PROGRESS>
This comes as part of Fractal Tune Smithy and is one of the basic freeware features of it.
You need to purchase in order to use the option to save all the wave samples for a sound font in one go which is a pro feature..