Stereoscopic views - Anaglyphs
Stereoscopic views
Here is one - an animated stereoscopic view of one of the geometrical shapes you can make with Virtual Flower
For a view with motion and zoom controls: Small dodekic icosidodecahedron. It's a flash animated jpeg made with Virtual Flower.
There is a trick to looking at these - well you can use a special stereoscopic viewer of course. But it is possible to see them as they are without a viewer.
The other way is to hold your finger up in front of the image, look at your finger, and let your eyes go cross-eyed. You see two copies of both the shapes - and want the centre two images to overlap until they coincide. Don't worry if they don't overlap exactly - this is common, depending on your eyesight, and the eye is well able to compensate for small discrepancies in the positions of the images.
Just adjust the position of your finger until they coincide as nearly .as you can make it - and then wait and after a while you may see a shape floating in front of the screen in the middle - with the other two ones to either side still lying flat back in the screen. It will be floating quite a way in front of the screen. . The key actually is to get your finger at the right distance from the screen to match the position of the shape. Now gently move your finger away and mask the shapes to either side with your hands positioned at the same distance as the object - and with a bit of luck, you will see it floating in mid air between your hands :-).
You can make any of the shapes shown on these pages into stereoscopic images in this way.
Anaglyphs
You can also make the ordinary anaglyphs - those shapes that look 3D if you see them through those spectacles, where one eye sees it through the red and one through the cyan (blue green) glass.
Virtual Flower also has an option to show any of the virtual flowers as coloured anaglyphs - like this:
Also you can make them so they look transparent: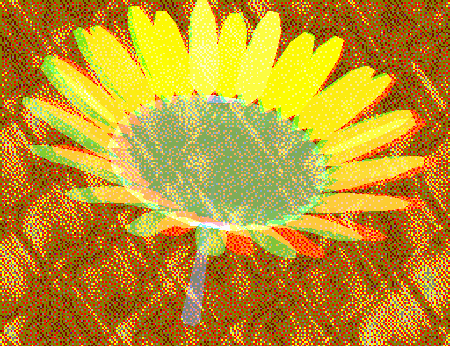 Click on any of the images for a larger view
For more of these, take a stroll through the Anaglyph garden :-)
You need those 3D red / blue or red / cyan specs to see them - see the NASA page Where to get your 3D glasses.
Again you can make any of the shapes shown on these pages into coloured anaglyphs in this way with any background - also red green, red-blue and on black or white background.
To read more about Virtual Flower, go on to:
Explore four and higher dimensional geometry
To get the program, download and install Virtual Flower.
The program comes with a generous Free Test drive with all the features completely unlocked (start the test drive at any time):