Help for Tune Smithy

Tutorials: How to record to midi
From Tune Smithy
Go to Window 11 Record to File (Ctrl + 11).
Choose where you want the recording to be saved using the Browse button. You can also use Set to My Documents if you want to save it in your My Documents folder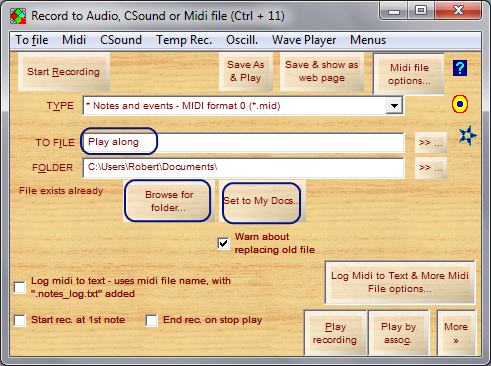 You can also set a name for the file in the FILE field.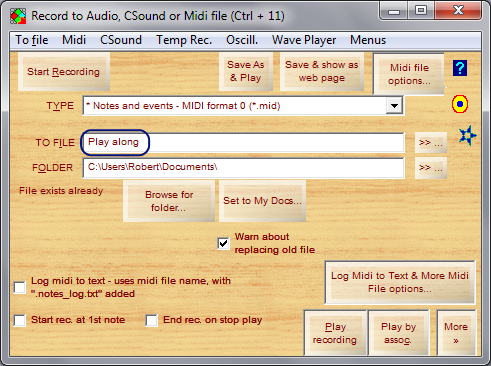 Choose the recording type. For a midi recording, you need to select Midi from the drop list.
Advantages and disadvantages of midi files
A midi file can be played on any computer but can't be played on e.g. a CD player because it needs a device with midi instruments installed on it to play the notes.
Some modern Vista and Windows 7 computers can't record to waveform audio or to .mp3. But any computer can record to a midi file. Midi files are much smaller and so suitable for sending by e-mail etc. The quality of the instruments used to play midi files vary from computer to computer as it depends on the midi instruments installed on the computer. You can convert midi files to audio and change them and try them out with different instruments etc. The other way around it is very hard to convert audio files back to midi so once you have a recording in the audio formats such as mp3s you can't do much to change your recording, just play it. Now press the Start Recording button.

Now play as you do normally. Everything you play gets saved to a midi file with the desired name.

When finished you press End Recording.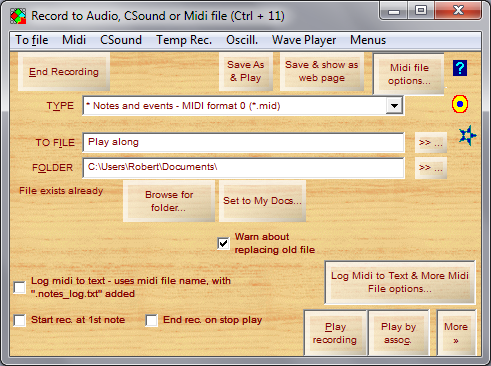 Finally you can use the Play button to play your recording back and check it is okay.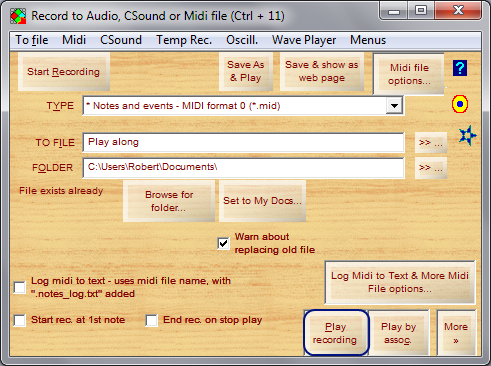 Stop play - or it will stop automatically at the end of the recording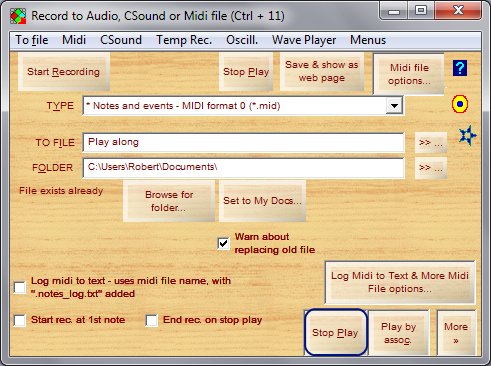 Find the recording you just saved
Then go to the folder you saved it in to find your file which you can then e.g. send to a friend or whatever. If you want to convert it to waveform audio or mp3 - you need to check out Timidity (a bit techy) or the Roland Sound Canvas. With the release of version 4.2 of FTS then you will get a button in window 11 which you can use to convert your midi file directly to audio using Timidity but that's not quite ready yet.