Help for Tune Smithy

Window 14
From Tune Smithy
(Difference between revisions)
m

(34 intermediate revisions not shown)
Line 1:
Line 1:
-

 

+

[[Window 13 | Previous]] - [[All_Tune_Smithy_Windows | Up]] - [[Window 15 | Next]]

[[Window 13 | Previous]] - [[All_Tune_Smithy_Windows | Up]] - [[Window 15 | Next]]

= Search Scales or Arpeggios =

= Search Scales or Arpeggios =

+
+
+
+
+
+
+
+
+
+
+
+
+
+
+
+
+
+
+
+
+
+
+
+
+
+
+
+
+
+
+
+
+
+
+
+
+
+
+
+
+
+
+
+
+
+
+
+
+
+
+
+
+
+
+

==Less <<==

==Less <<==

Line 25:
Line 80:

Since the help for Tune Smithy is currently a bit out of date and needs to be redone completely for the new 3.0 release, then you may find the on-line page for some of the newer tasks particularly useful.

Since the help for Tune Smithy is currently a bit out of date and needs to be redone completely for the new 3.0 release, then you may find the on-line page for some of the newer tasks particularly useful.

-

==Organise Windows = F2==

+

==Organise Windows = F2==

-

Or F2 - Reset / save / open for individual windows, right click for cat. list...

+

Reset, for . ...

-

Shows the Organise windows window - which you can use to reset all the parameters for the current window - or save them all, or open previously saved parameters for just this window. Also has a drop list of all the windows and their shortcuts.

+

Shows the Organise windows window - which you can use to reset all the parameters for the current window.

-

You can also right click on this icon as a quick way to get the floating drop menu of all the Tune Smithy windows organised by category

+

You can also to the

+

 

+

drop of all the windows

==Scales Dialog Star==

==Scales Dialog Star==

Line 57:
Line 114:

[[Window 58 | Midi Out / Save Timing (Ctrl + 58) ]]

[[Window 58 | Midi Out / Save Timing (Ctrl + 58) ]]

-

[[Window 57 | File Associations (Ctrl + 57) ]]

+

N.B. This list of neighbours may change when these pages are updated.

-

 

+
-

[[Window 56 | Ratios Options (Ctrl + 56) ]]

+
-

 

+
-

[[Window 55 | To Notation (Ctrl + 55) ]]

+
-

 

+
-

N.B. This list of neighbours may change when these pages are updated - based on the ones I use myself. Prob. will show something else here in future.

+
---
Latest revision as of 14:18, 2 November 2008
Search Scales or Arpeggios
Screen Shot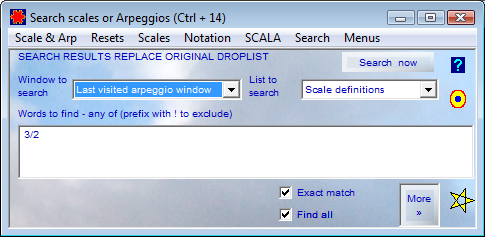 Search Scales or Arpeggios
Search the scales or arpeggios lists for words or numbers...
You can use this e.g. to find all the scale descriptions with a particular word in it (e.g. all pelog scales or all bagpipe scales or whatever) or all the scale definitions with 3/2 in them and so on.
It is particularly useful for searching very large scales lists such as the SCALA archive.
How to get here
Ctrl + 14 or from Scale and Explorations (Ctrl + 17) or from the SCALA drop list in the scales menu.
How to use this window
=Search the main list
For this, select the main window in the Window to search. Then choose which of the lists you want to search.
Then enter what you want to look for in the Words to find field, and click the Search Now button to fill the main window drop list (if present) and the list in Scales Drop List (Ctrl + 110) or Arpeggios Drop List (Ctrl + 109) with the search results.
If you want to do many searches of the same list
If you are likely to do many searches of the same list before you find what you want, then you may find it helpful to use New Arpeggio (Ctrl + 6) to hold the search results temporarily. Show New Arpeggio (Ctrl + 6). Then unselect the two synchronisation check boxes, so that it has its own independent copy of the scales and arpeggios lists.
Now choose Last visted Arpeggio window as the one to search in Search Scales or Arpeggios (Ctrl + 14).
You need to use New Arpeggio (Ctrl + 6) for the Scales searches as well as the Arpeggios searches. That's because New Scale (Ctrl + 5) has its own separate scales drop list unrelated to the main window drop list.
To see the scales in New Arpeggio (Ctrl + 6), go to the More version of the window, and click on the = button to show the scale numbers.
To get the results back into the main window replacing the main window list, once you have found what you wanted, use the Lists -> M.W. button.
If you have made a mistake, or didn't find what you wanted or just want to start again,go to New Arpeggio (Ctrl + 6) and use the Get Arp. button to get the complete list back again from the main window. Then search again.
This is generally easier than continually re-opening the original scales list whenever you want to start a new search of it..
If you want to keep your earlier searches to hand
This technique becomes particularly useful if you want to keep the earlier lists to hand. You can have as many copies of New Arpeggio (Ctrl + 6) in play at once as you like. Make sure they are all unsynchronised with the main window.
To choose which of your New Arpeggio (Ctrl + 6) windows to search, click on its window title. Then go to Search Scales or Arpeggios (Ctrl + 14) to do the search.
Then once you have what you want, you can use the Lists -> M.W. button to copy any of the lists into the main window to use them as you like, while keeping the others to hand on the screen, for later use.
Add drop lists of scales to Main window Scale drop list | More Scales... on Save or Open
Add scale lists, including the list of all the SCALA modes lists..
They are added to the More Scales list which you can get to via Resets | More Scales or following the link at the end of the preset list of scales for the main window.
The list of all the SCALA modes list counts as a list of scales here - because it is a long list of scales, each with an accompanying list of modes.
Less <<
Shows this window with either less space, less options, or alternative layout
Help = F1
Click for help for this window. Or F1. Other opts: Shift , Alt, Ctrl + click...
F1 or click shows the help for the current window in your web browser.
Some windows may have no help yet in which case the help icon is shown crossed out with a red line.
Shift + F1 or Shift + Click brings up the tool tips extra help window (this window) to show any extra help for a tool tip.
You can tell if a tool tip has extra help if it ends ... like this one.
Ctrl + F1 or Ctrl + click takes you to the list of keyboard shortcuts for Tune Smithy.
Alt + F1 or Alt + click (alternatively Caps lock physically held down + F1 or Click) takes you to the on-line page at the robertinventor.com web site about the current main window task - which gives a short introduction to it for newbies to the program. If there is no on-line page specific to a task, takes you to the main tune smithy page on the web site.
Since the help for Tune Smithy is currently a bit out of date and needs to be redone completely for the new 3.0 release, then you may find the on-line page for some of the newer tasks particularly useful.
Reset, or Save settings for this window. RIGHT CLICK for all windows menu...
Shows the Organise windows window - which you can use to reset all the parameters for the current window.
You can also use it to save the settings for just this window, or open previously saved parameters for just this window.
Also has a drop list of all the windows and their shortcuts, and related options - some to do with the menu listing, and some to do with window resizing and minimising.
Scales Dialog Star
Tip of the day - Scales category - right click for neighbouring windows...
Left click for a tip of the day in this category.
Right click to see a menu of neighbouring windows.
The neighbours are the ones you most often move to after this one or within a minute of this one, arranged by popularity.
So as you continue to use FTS, it will learn your habits, and the neighbouring windows listed here, should be the ones you most often visit after this one.
Help For Tool Tip - Shift + F1 (Ctrl + 141)
Tuner - Count Waves or Freq. Spectrum Pitch Detection (Ctrl + 62)
Accidentals symbols and special opts (Ctrl + 61)
Midi Output Channels for Parts and Polyphony (Ctrl + 60)
Midi Out / Save Timing (Ctrl + 58)
N.B. This list of neighbours may change when these pages are updated.