3D Animations Features Overview

To get back here click on 3D Animations
What do you want to do?
All these features are available when you download:


Lissajous 3D or

Virtual Flower

Watch the relaxing Lissajous 3D animations and create new ones of your own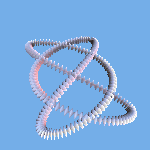 - see What is Lissajous 3D

Explore some of the ways you can transform the patterns, such as adding magnetism, friction, etc, change the wave shape to e.g. square waves, replace the ribbon by line segments for a string game type pattern - or turn the ribbon inside out in a sphere, etc - see Pattern Transformations

Generate patterns from circles spinning within circles - epicycles, or "spirographs"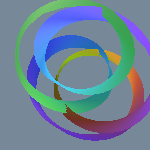 - see Epicycles ("Spirographs")

Save your patterns as animations, or as images, or send them as a musical e-card - see Other Features

Explore the musical connections, and show Lissajous patterns for musical intervals - see The musical connection

Install the Lissajous 3D screen saver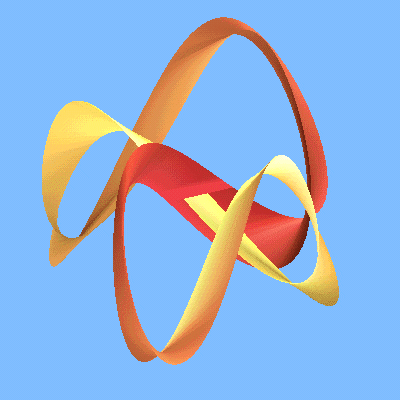 see The Screen Saver
Virtual Flower

Create plants that grow, sway and rustle, for virtual scenes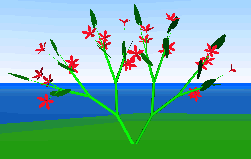 See What is Virtual Flower

Make animated "star spheres" (or in this case, a "star cube")
See Star Spheres

Generate virtual models of various geometrical shapes

- see Geometrical Shapes

Make and explore musical geometries - special shapes with musical notes at every vertex, and chords for the lines and faces. All the notes and chords fit together with each other in the same way that the faces, lines and points fit together to make the geometrical shape they are on.
- see Musical Geometries

Save your virtual plants and flowers as images or movies

(still frame - spins around)
- see Flash and jpeg animations for web pages etc

Save your plants as images that look 3D through those red/green spectacles. The coloured anaglyphs show coloured as well as in 3D. Here is an example which shows as blue flowers on a green stalk with the 3D specs: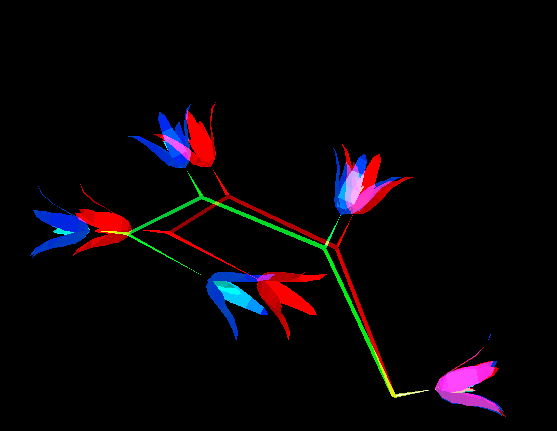 - see Stereoscopic views - and Coloured 3D Anaglyphs

Play the Virtual Flowers in a screen saver.
- see Screen saver

Plus a techy program to make new viewpoints for VRML enthusiasts.